When to Harvest Indoor Herb?
There are a few indicators that will signal you when your herb is about to be harvested. Of course, different strains may behave differently, here we provide you some general indications:
See if the plant's buds are full and no longer appear to be growing.
Check to see if the leaves are yellowing and curling, and some will drop.
Check if the branches getting heavy and hanging down more.
The appearance of the trichrome is one of the most reliable ways to tell when it's time to harvest. Ideally, half of the trichomes should be creamy white, while the others should be a bright amber color.
After confirming that your strains can be harvested according to the above performance, you need to carefully check whether the strains are infected by mold, fungus and pests. If so, please filter out the damaged parts and select high-quality parts for subsequent operations.
The Steps on How to Harvest Indoor Herbs
Flushing
Most growers choose to flush their herbs before harvesting. This step is extremely important to improve the quality of the plants. After all, almost every grower wants to harvest the purest plants. Because flushing with clean warm water helps remove the excess salt and mineral nutrients, dirt, dust, pollen, insects, caterpillar droppings, bird droppings, and other particulate matter. Of course, you can also use lemon juice, baking soda, and hydrogen peroxide to clean your plants if you want to flush them cleaner.
Drying
Drying herbs in the right way will help preserve their potency, vigor and color. But if the drying is uneven, it may cause the plants to become moldy and lose their fragrance. It is recommended that you choose to dry your plants in a mild, relatively dark place. Depending on your environment and flowers, it may take 4-12 days to dry. In general, the slower the drying process, the better, and the buds should feel completely dry to the touch, but not brittle.
According to some data, a mesh drying rack is a favorite tool for drying plants among growers: you need to cut the plants into small stems or cut off their buds and place them on the mesh drying rack. And with a multi-layer design, you can also put different strains on each layer. The drying rack of Mars Hydro is made of waterproof and dustproof fabric to protect your plants from outside dust and moisture. The polyester mesh material, durable and not easy to tear, can be used for a long time. It is also equipped with Velcro loops and S-shaped hooks for you to hang securely. And the foldable design is convenient for you to store easily and save space.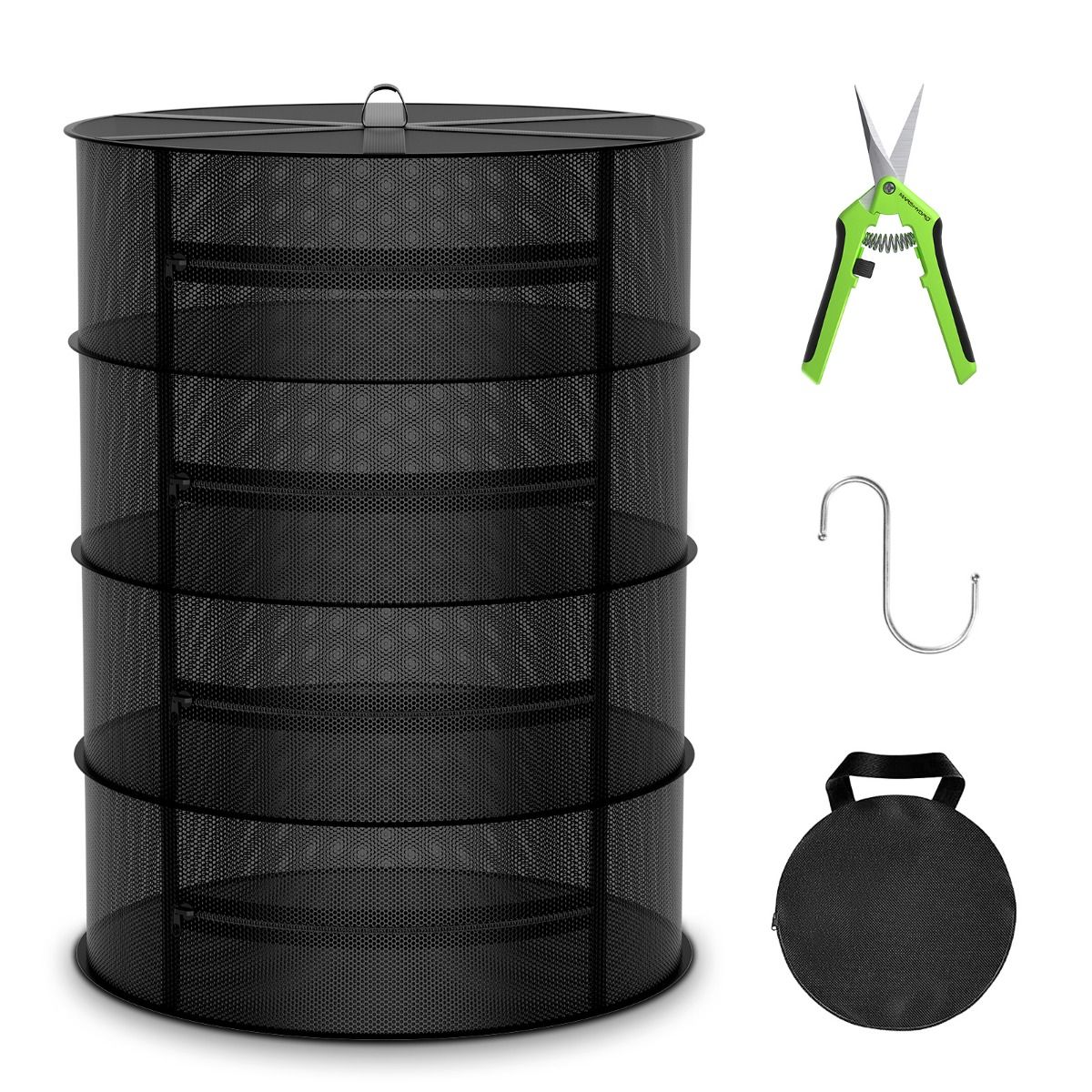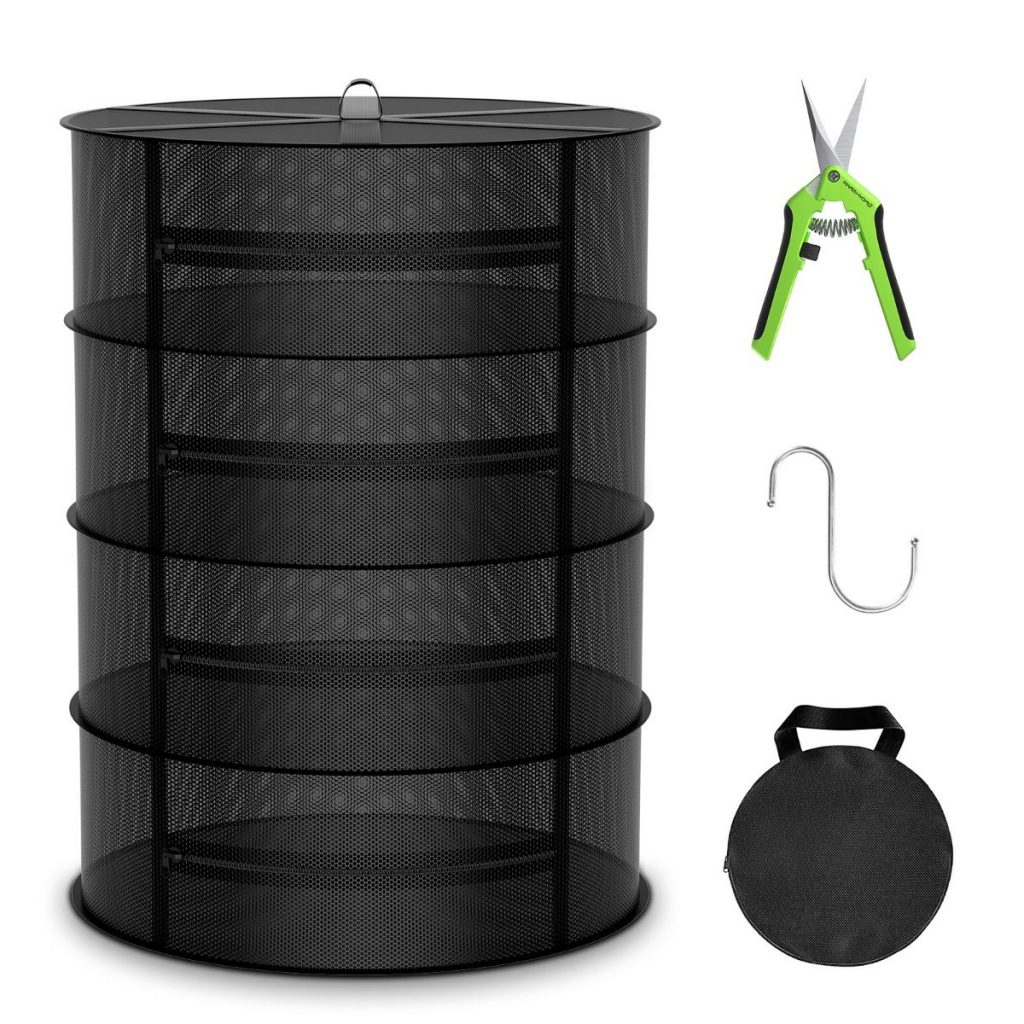 Trimming
After waiting for your plant to dry, the next step is to trim it. The purpose is to remove the excess sugar leaves, which are the small leaves that grow from the herb buds and are covered with trichomes that look like white sugar grains. During the whole process, please try to be careful and try not to cause any damage to the herb.
Storage
Plants can be stored after trimming. Any airtight container will do, but it is best to store it in a mild and dark place. The recommended temperature is around 20°C and the humidity is around 58% to 65%. For the best flavor, you need to open the container once a day for an hour for the first 2 weeks, then seal it. This process can take anywhere from 3 weeks to several months.
Blog Giveaway
Thanks for reading and Happy New Year to everyone! Mars Hydro is giving away a 4-layer drying rack in this blog, please read the rules for participating below.
Prize: 4-layer herb drying rack
Participation Way: Leave your comments about your new year wish below the blog.
Winner Selection: Randomly pick up a winner from the comments.
End Date: Jan.31st
Notice: Please confirm that your email address is ACTIVE so that we can announce you in time if you are the winner
🎁Winner Announcement🎊
Thanks to all participants, now WINNER details are announced below.
Congratulations to @oblique-sweats0w. This 4-layer herb drying rack belongs to you now!
Please send your shipping information to [email protected] when you see this message.
Grow on Earth, Grow with Mars!